The Rethink Plastic alliance and Covid-19
Covid-19 has had, and will continue to have, devastating impacts on people. This unprecedented global pandemic is forcing us all to make changes, adapt and build resilience, for better or for worse.
The impacts of Covid-19 will not be equal, whether individuals contract the virus or not. Like many global catastrophes before it, Covid-19 is showcasing the vast inequalities of our current world systems. The burden (1) on healthcare workers, people working in the food sector, waste management workers, migrant workers, the unemployed, those who cannot work from home, and those who cannot access the resources they need, should not be overlooked. Similarly, the significant impact on women (2) during this crisis should also be acknowledged. Impacts will be felt across the environment, our societies and the economy, affecting people in very different ways – and there are still so many unknowns. Among the uncertainty, we have to allow humans to make the best choices available to them to keep themselves and their communities safe.
What we do know is that the current priority is our collective wellbeing, health and safety – taking care of one another, in solidarity with people around the world. Efforts should focus on the advice given by the WHO on preventive and precautionary measures to avoid the spread of the virus.
Covid-19 has created emergency responses and actions to address this pandemic and put public health above all else. For now, this remains the priority. But this must not be seen as a permit to pollute or an opportunity for the plastics industry to take us back to a world full of disposables for their own financial gain. 
The ongoing attempt by the EU plastic industry to delay and weaken the implementation of the 2019 EU legislation on single-use plastic is not scientifically founded. Recent studies have shown that the virus can stay viable on plastics for up to 72 hours – longer than on many other materials (3). In addition, single-use containers are not proven to be safer than reusable containers.  We cannot go backwards, we must learn, rebuild and move forwards. 
People all over the world are already showcasing how creative, adaptive and resilient we can be, and the everyday acts of kindness we are seeing are bringing hope to so many. Despite the distance Covid-19 has created, people are coming together to support one another. These support networks will help us move into a better, fairer, future tomorrow where the global community lives in harmony with nature. And, once the dust settles, these new global support networks will help us create a world that truly benefits everyone.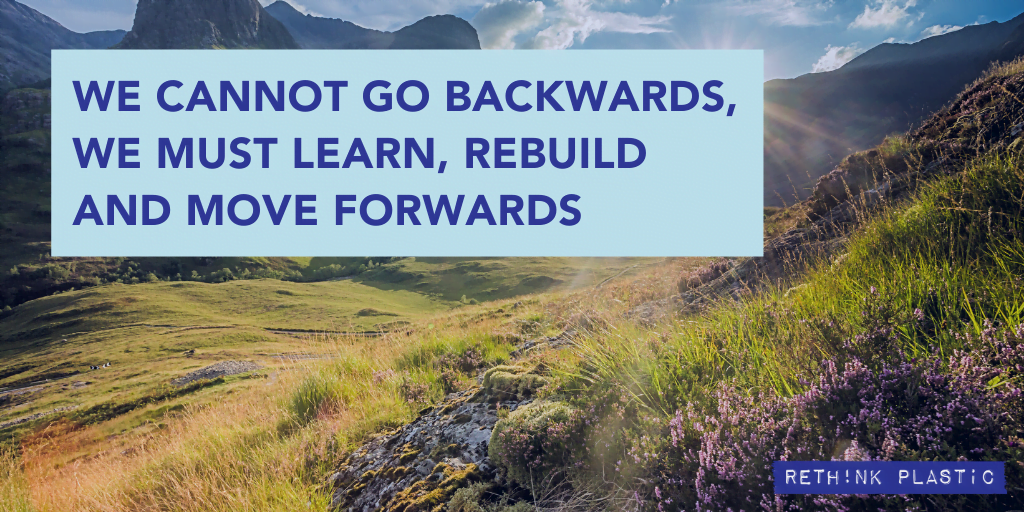 (1) https://www.vox.com/future-perfect/2020/3/26/21193122/coronavirus-mental-health-doctors-nurses-covid-19
https://www.bbc.com/news/newsbeat-52003533
https://www.ifpri.org/blog/how-covid-19-may-disrupt-food-supply-chains-developing-countries
https://www.no-burn.org/solidarity-and-care-in-the-middle-of-this-pandemic/
https://www.wiego.org/covid19crisis
https://www.iswa.org/home/news/news-detail/article/blog-waste-management-during-the-coronavirus-pandemic/109/
https://www.weforum.org/agenda/2020/04/the-coronavirus-pandemic-could-be-devastating-for-the-worlds-refugees/
https://oecd-development-matters.org/2020/04/02/covid-19-consequences-for-international-migration-and-development/
https://www.theguardian.com/global-development/2020/mar/20/covid-19-lockdown-turns-qatars-largest-migrant-camp-into-virtual-prison
https://www.euractiv.com/section/justice-home-affairs/news/refugees-left-behind-in-coronavirus-crisis-aid-groups-warn/
https://www.iom.int/news/covid-19-does-not-discriminate-nor-should-our-response
(2) https://www.who.int/reproductivehealth/publications/vaw-covid-19/en/
https://www.wiego.org/covid19crisis