Plastic Atlas release demonstrates scale of plastic pollution crisis & solutions for a zero waste future
Today, the Heinrich Böll Foundation and the Break Free From Plastic movement published the international English edition of the Plastic Atlas, holding launch events in Brussels, Washington D.C. and Manila.
6 November 2019, Brussels
Today, the Heinrich Böll Foundation and the Break Free From Plastic movement published the international English edition of the Plastic Atlas, holding launch events in Brussels, Washington D.C. and Manila.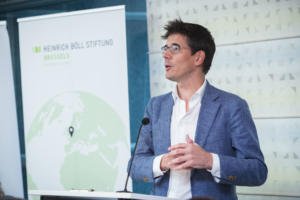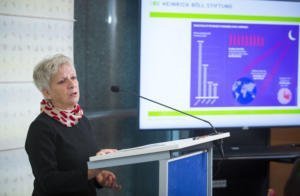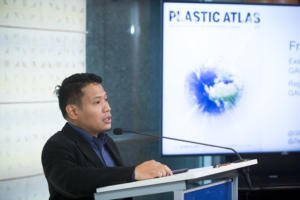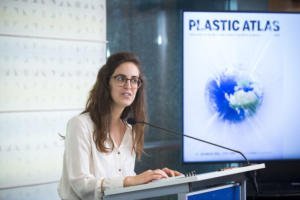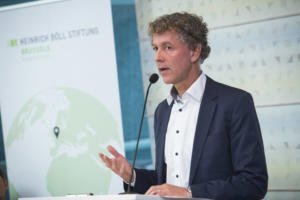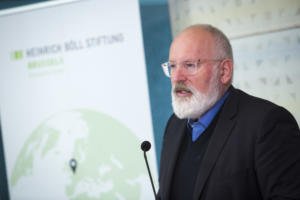 The Plastic Atlas contains more than 49 detailed infographics covering a broad range of topics regarding the plastic pollution crisis looking along the entire value chain of plastic. The atlas highlights the scale of the crisis, and the global impacts of plastic production, consumption and disposal on other key global challenges such as human health and climate change.
It also outlines the role of plastic for key industrial sectors such as agriculture and tourism and describes the corporate interests and drivers behind the plastic crisis.
Finally, the Plastic Atlas presents an overview of key anti-plastic regulations, zero waste solutions and a snapshot of the growing global movement working towards a future free from plastic pollution.
Executive Vice-President-designate for the European Green Deal, Frans Timmermans stated: "The European Union has made an important first step by banning some of the most polluting single use plastic products in Europe. We now need to continue our efforts to design products for reuse, improve waste management and recycling, and move towards a zero-pollution economic model. Valuable resources must be retained and recycled material used for making new products, not shipped abroad or sent up in smoke through an incinerator.
Bas Eickhout, Vice-Chair of the EP-Committee on the Environment, Public Health and Food Safety (The Greens/EFA) and co-host of the Plastic-Atlas launch pointed out: "This plastic atlas shows the painful reality behind our plastic addiction, and there is no excuse to wait with the implementation of policies to cure it. Let me name a few: Bans on needless use of plastic. Strict eco-design rules to ensure that we use as little plastic as possible in the products that we make. New legislation to prevent the leakage of plastic pellets in our environment. Mandatory use of recycled instead of virgin plastic. And of course: a plastic tax. It's time to walk the walk."
Break Free From Plastic European Coordinator, Delphine Lévi Alvarès added: "Europe plays a significant role in the plastic pollution crisis at almost every juncture. From the export of low-grade plastic waste to the global south, where Europe avoids taking responsibility for dealing with the waste that we create, to the European corporations such as Coca-Cola, Nestle and Unilever which are again and again cited as the top global producers of branded plastic pollution. Europe's role in this crisis is ubiquitous. But Europe also has great potential to tackle plastic pollution at source, notably by enacting strong policies. This is the only way to achieve a circular economy and go above and beyond the Paris Agreement commitments."
Heinrich Böll Foundation President Barbara Unmüßig has called for global action to address the crisis at source: "A ban on single-use plastics makes sense but will not be sufficient to end one of the biggest environmental crises of the planet. Plastics began as a waste product of the petrochemical industry. Today, ExxonMobil, BASF, Eni, INEOS, and Dow are the biggest plastic producers worldwide with sales totaling 420 billion Euros per year. Instead of cutting down on this part of the business they have clear targets to increase plastic production over the coming years. The unlimited availability of cheap oil and gas as raw materials for plastic production prevents effective recycling strategies and blocks a real circular economy. Regional and global politics must hold the plastic industry accountable and define a clear and strict framework for the reduction of overall plastic production and consumption. However, circular-economy strategies are needed to make a lasting impact."
Download the full Plastic Atlas
#breakfreefromplastic is a global movement envisioning a future free from plastic pollution. Since its launch in September 2016, nearly 1,800 organisations from across the world have joined the movement to demand massive reductions in single-use plastics and to push for lasting solutions to the plastic pollution crisis. These organisations share the common values of environmental protection and social justice, which guide their work at the community level and represent a global, unified vision.
The Heinrich Böll Foundation, as part of the Green political movement, is a catalyst for Green visions and projects, a think tank for policy reform, and an international network. We globally support and cooperate with partners promoting Democracy, human rights, socio-ecological transformation and gender justice.
***
ENDS
Press Contacts
Agnese Marcon, Communications Coordinator, Rethink Plastic alliance
[email protected], +32 (0) 456 078 038