Current discussions on European Commission guidelines could jeopardise EU single-use plastic bans!
WeMove, BFFP and RPa partnered and launched a petition to call EU and national decision-makers to uphold the ambition of the SUP Directive and ensure that the guidelines do not open the door for exemptions! You can support the petition here and read below on more details of what is at risk.
In 2019, the European Union (EU) adopted landmark legislation on single-use plastics, requiring EU countries to ban certain single-use plastics, reduce the consumption of others and put in place extended producer responsibility schemes. This was a major step in moving away from single-use plastics and reducing plastic pollution.
The European Commission is now developing guidelines to support the implementation of the new rules by EU countries, notably by specifying in greater detail which single-use plastic products are covered by the Directive. While technical, these guidelines are very important, as they will partly determine how much change the Directive will yield.
However, the current discussions, underway in Brussels, are not going well. The current draft of the  European Commission guidelines on single-use products, (that has been leaked to the press), allows for dangerous exemptions, which would undermine the very objective of the Directive.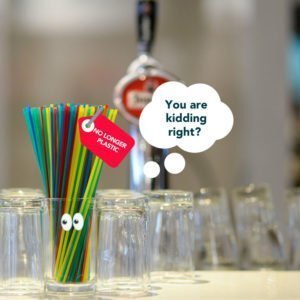 Firstly, the current draft of the guidelines defines plastic in such a way that certain single-use plastic products, made of materials such as viscose and cellophane would no longer fall under the Directive. Certain types of wipes and menstrual products would be excluded, even though they have similar impacts on the environment as other types of wipes and menstrual products that are covered by the legislation. Single-use plastic straws made of cellophane would still be allowed on the market, even though the Directive clearly bans single-use plastic straws. With the current wording in the draft, the ban would be rendered completely ineffective.
Secondly, the draft guidelines use "single-serve vs multi-serve" criteria in order to exclude certain types of packaging and food containers. For example, this distinction would lead to the exclusion of all crisp packets that are not considered to be "single-portion" or "single-serve." However, most of the crisp formats currently sold on the shelves are not considered "single-serve," which would therefore  lead to the exclusion of most crisp packets from being covered by the legislation. Using the "multiserve" criteria to exclude certain single-use plastic products opens the door to wide exemptions, with companies simply changing the labelling of their product to 2 portions or 2 servings in order to bypass the Directive.
The current draft of the guidelines would completely undermine the Directive and risk making some of the new rules completely useless. The European Commission and EU countries need to change the course of these discussions in order to uphold the ambitious objectives of the Directive and answer the public's demand to move away from single-use plastics and end plastic pollution.